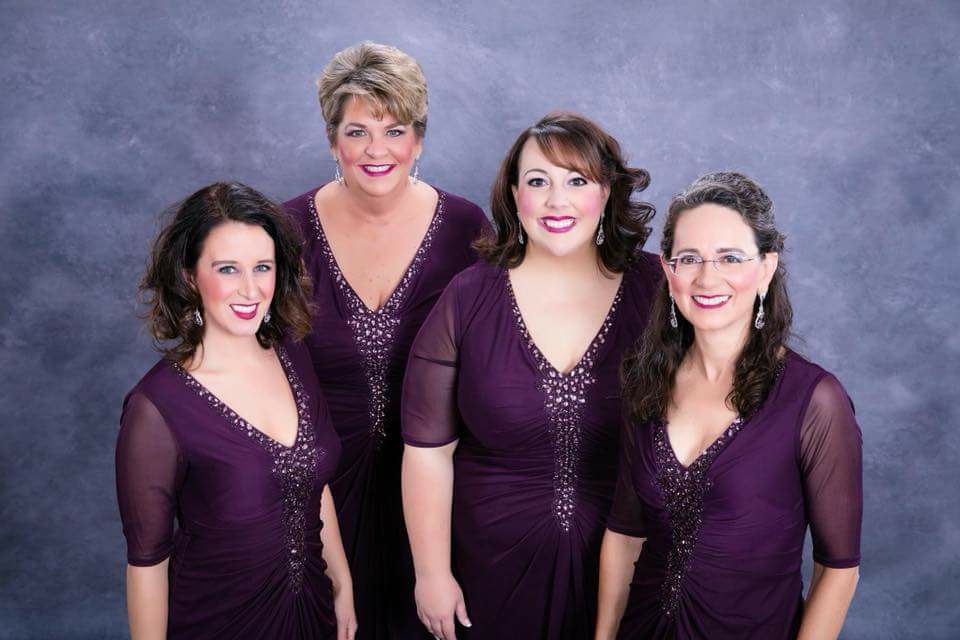 THE VIBE QUARTET began their journey in the spring of 2016 and have racked up thousands of miles and hundreds of hours to be able to share their joy of tight Barbershop Harmony Style with you. They achieved Regional first place back to back championships in the spring of 2017 and 2018 to go on to represent their region at the International Level competitions in Las Vegas and St. Louis.
Lead, Sarah Eggerstedt (member of Shoreline Sound), is from Jackson, Michigan where she resides with her husband Kyle and daughter Olivia. Bass, Traci Martin (member of Motor City Blend), is from Brighton, Michigan along with her husband Jim. Tenor, Abby Sella (member of Fenton Lakes and Motor City Blend), lives in Clarkston with her husband Terry and son Archer. Farther north from Traverse City lives Baritone Heather Kingham (member of Grand Traverse Show) and her husband, Mark.  
The VIBE gals are forever grateful for the support of incredible loving family and friends and for Region 2 while they continue to entertain audiences everywhere. Feel free to visit our Facebook page and follow along on our musical journey!
THE VIBE QUARTET